Location:
Law School and streaming simulcast
Speaker(s) / Presenter(s):
Kevin Willmott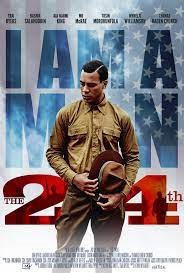 Join us for a film screening of The 24th, a historical film written and directed by Kevin Willmott! This film screening will be held virtually followed by a brief Q&A discussion. For more insight on the film, check out this interview.
Read more on Kevin Willmott's extensive works HERE.
This event is sponsored by:
English Department MFA Visiting Writers Series
International Film Certificate Program
Gaines Center for Humanities
UK History Department
Commonwealth Institute for Black Studies
Rosenberg College of Law
Cooperative for the Humanities and Social Sciences
UK Veteran's Resource CEnter
William T. Young Library
UK Office of Institutional Diversity
To register, click HERE! Contact Pearl James for more information.
Type of Event (for grouping events):